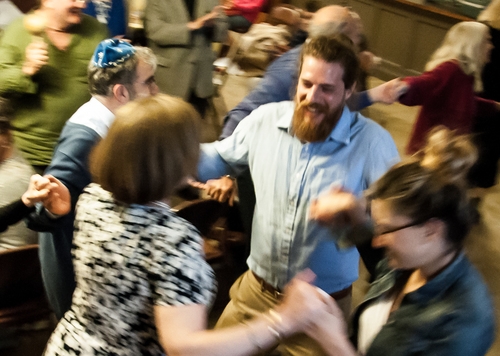 Congregation Shir Hadash is a Jewish spiritual community. We are egalitarian, inclusive, welcoming, creative, and informal. Reconstructionist philosophy provides the foundation for our spiritual journey; we also welcome and explore other spiritual and intellectual paths.
Because prayer, music, and song are integral parts of our services, we chose the name Shir Hadash which means New Song. Music is one of the ways in which we discover and express our spirituality.
We value, support, and help each other in good times and in challenging times. We welcome and thrive on member volunteerism and active participation. Our members' openness, creativity, involvement, passion, and dedication are essential parts of our spiritual, social and Tikkun Olam activities.

Rabbi Michal Woll
Rabbi Michal blends music, movement, learning, self discovery and community building. Her influences include the Reconstructionist movement, Jewish Renewal, the Havurah Movement and the Jewish Emergent Network.
[More]

Rabbi Emeritus David Brusin
Rabbi Brusin was our spiritual leader from 1993 until June 2014. He has also taught at Ripon College, UW-M, and Cardinal Stritch University.
[More]